CONTACT DETAILS FOR THE DIY HARRY POTTER TOUR
We'd love to hear your feedback on the Harry Potter Tour.
We'd especially like to hear from you if you have come across any of the Harry Potter Locations that have changed since the tour was created or last paced out.
Perhaps you have discovered somewhere that you really enjoyed and think would truly enhance the tour? We'd love to hear from you.
We intend to check the route at least once a month but obviously things can change. Scaffolding can go up (as is evidenced by what's going on at King's Cross Station at the moment),roads can close and buildings can be demolished. So if you are aware of any changes that might affect our Harry Potter tour route please do let us know so that we can warn other walkers.
Also, if you would like any advice on the best times to take the Harry Potter London walk then please feel free to contact us. We are happy to advise on the best ways to do the London Harry Potter Tour and about specific locations.
PLEASE CLICK ON THE OWL BELOW
AND YOUR QUERY WILL FLY TO US!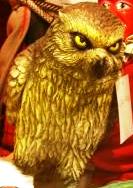 If you would like to send us a howler by snail mail
our address is:-
Harry Potter Tour
C/O Discovery Tours and Events Ltd
PO BOX 53131
London
E18 1UW