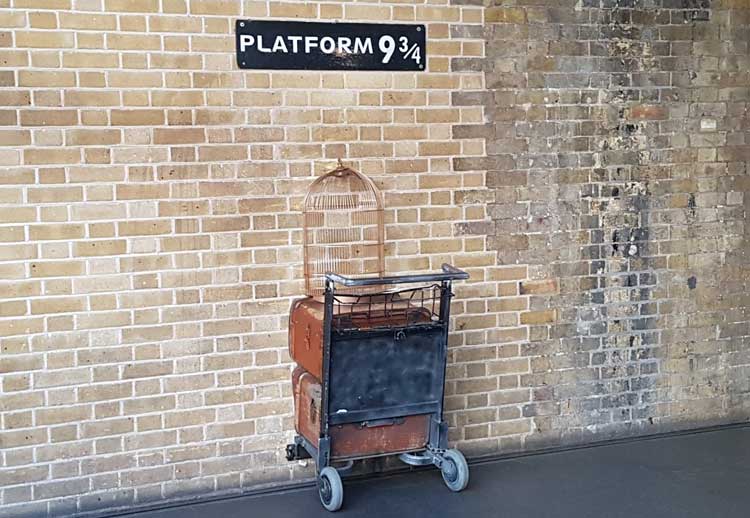 A FILM LOCATIONS SELF-GUIDED WALK
Welcome to the free guide to wizards London that features the sights of London and includes the Harry Potter® London film locations. It is brought to you by London Blue Badge Tourist Guide and author Richard Jones with the intention of providing you with a free DIY walk that will enable you to explore some of London's hidden away and most fascinating places at little or no cost.
In short you will be able to enjoy a truly magical day out in Central London.
WHAT IS IT?
The tour is a free downloadable, print and go self-guided tour.
You simply download the PDF, either print off a paper version of it, or have it on your phone, ipad or tablet, and then head out and follow the detailed step by step directions.
It is set out in section, each of which can be done as a stand-alone tour of a few hours, or else combined to create a full day tour that will take you all over London.
Because it is a self-guided tour, you have complete control over how and when you do it. You go at your own pace, enjoy all the things that you want to enjoy, and, best of all, you get to take a break when you want to take a break, not when a set tour schedule says you can!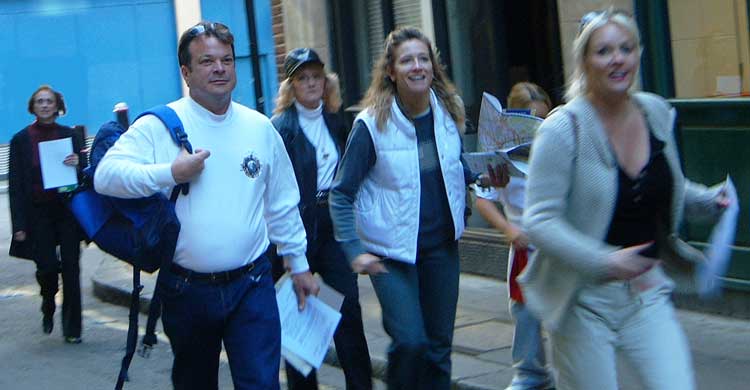 BE ADVENTUROUS AND SAVE MONEY
There are lots of similar tours on offer in London - and the prices range from manageable to exorbitant, whilst the quality varies.
Even the so-called "free" guided tours are not actually free, since the guides will be pressurising you to tip them throughout the tour, and you'll end up forking out around £20 or more for a service that is advertised as "free", which, if you think about it, is somewhat misleading, the sort of stunt Tom Riddle might have pulled!
Richard Jones's free London tour, on the other hand, is exactly what it says it is - 100% free.
Then there are the paid for tours, some of which will cost you upwards of £400 for a family of four, whilst, even the low cost London walks will set you back £26.
But, why pay to go on a scheduled tour?
By doing it yourself you will not only see all the locations (and many more besides) that are covered on the paid for tours, but you will also save yourself a great deal of money.
Why throw money away, when you can do it yourself for free?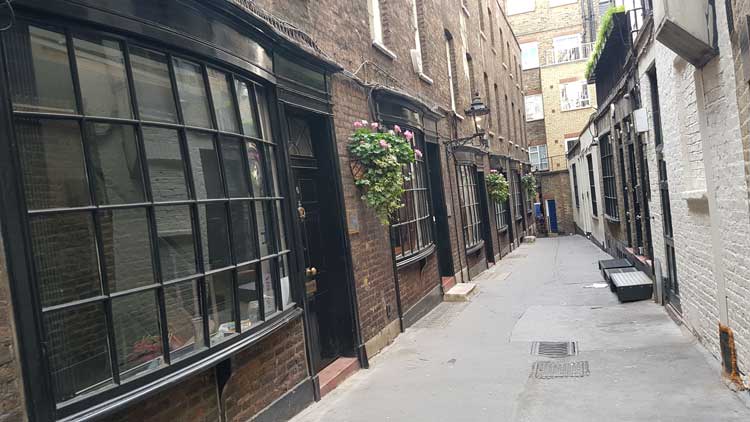 DETAILED STEP BY STEP DIRECTIONS
The big worry people have about going it alone is that they might get lost.
But you don't have to worry as you get very detailed directions that will guide you step by step around every twist and turn on the tour.
The tour is devised to be undertaken on foot and by bus and tube, and thus you are provided with step by step directions to enable you to find your way around London.
The directions are extremely easy to follow. They tell you which local landmarks to look for and head towards and tell you when to turn left and when to turn right, thus ensuring that you are guided every step of the way.
They even tell you which underground station to get on at, which one to get off at and they guide you around hidden streets and secret places on a series of fascinating walks that will introduce you to some truly magical places.
They were paced out by walking the route with a camcorder whilst both filming and dictating the directions.
As a result the instructions you receive are extremely detailed and have been thoroughly tested to ensure that you, quite simply, cannot get lost!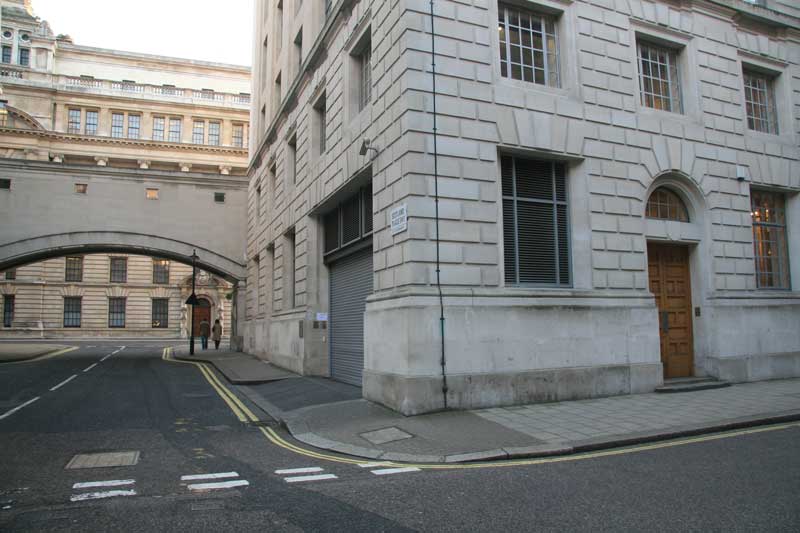 DODGING DEATH EATERS AND DISAPEARING THROUGH WALLS
As well as exploring the streets of London, you'll also enjoy the opportunity to step inside some of the locations that you will encounter en route.
How about, for example, trying to dodge the Death Eaters at several locations where Harry, Ron and Hermione encountered them?
Or, standing outside the exact doorway through which Harry and Hagrid entered the Leaky Cauldron.
Then, there is a shop, hidden away from the main London thoroughfares, that was set up by two graphic artists who worked on creating several of the magical props used in the Harry Potter movies.
It occupies three floors of an old 18th century property and, to be honest, it would be more at home in Diagon Alley than in the backstreets of London.
But it's there, and you can visit it, and Diagon Alley's loss is London's gain.
All these treasures await your discovery on a tour that will, most certainly, fill the unforgiving minute with sixty seconds worth of distance run!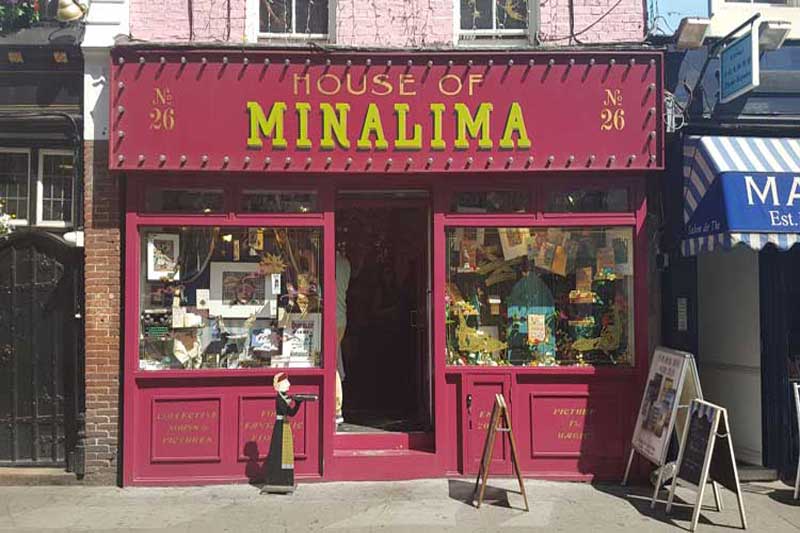 IF YOU KNOW WHERE TO GO
As you can see from the above sections, the Wizards London tour is extremely detailed and includes almost every film location that has been used in the Harry Potter films.
They're all there - the Leaky Cauldron, Gringotts Bank, various mysterious ways to get into Diagon Alley and the staff and visitors entrances to the Ministry of Magic.
But, since you'll be passing some fascinating segments of London's rich and vibrant history - a medieval ferryman's stool, the time-scarred ruins of the former residence of a Bishop, a 12th century well, 19th century demons that scowl down on passers-by below from their lofty perch, high up on a City rooftop, to name but a few - the tour will also be a voyage of discovery which will leave you not just having visited the Harry Potter locations, but also many other historic locations around the Capital.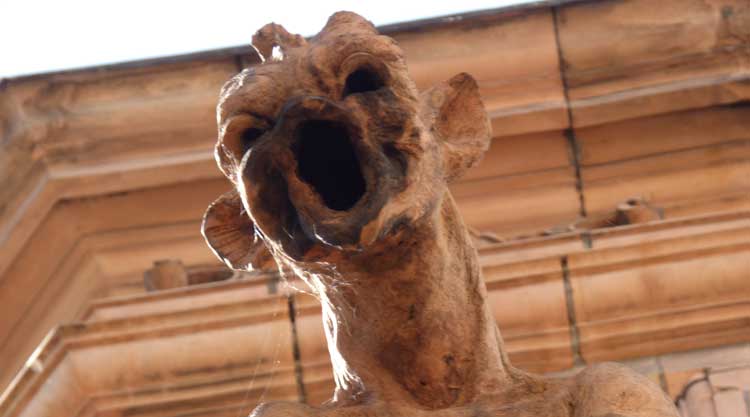 DIVIDED INTO EASY TO FOLLOW SECTIONS
The tour is divided into easy to follow sections that guide you through the streets of London and each section of the tour ends at a Harry Potter Film location.
Breaking it down into sections, as opposed to publishing it as one complete walk, means that you can choose the best way to do the tour in a way that suits your needs.
So, you can either spend the entire day doing the Harry Potter walk, or you can spread the sections out over several days, weeks, or even months! And, if time is limited, you can select which film locations are most important to you, and then focus on the section of the tour that features just those locations.
THE SECTIONS OF THE FREE LONDON TOUR ARE:-
---
IT'S A SELF-GUIDED TOUR
The film locations tour has been structured to be both informative and entertaining.
So, as you are walking around, you will see many other fascinating aspects of London such as finding hidden pieces of street furniture or fascinating information that is found on plaques and information boards.
And, in addition, you'll also be set the challenge of acquiring photos of yourselves at many of the magical locations that you will encounter as you make your way around London.
That way you really do get to not just see London but to also uncover it!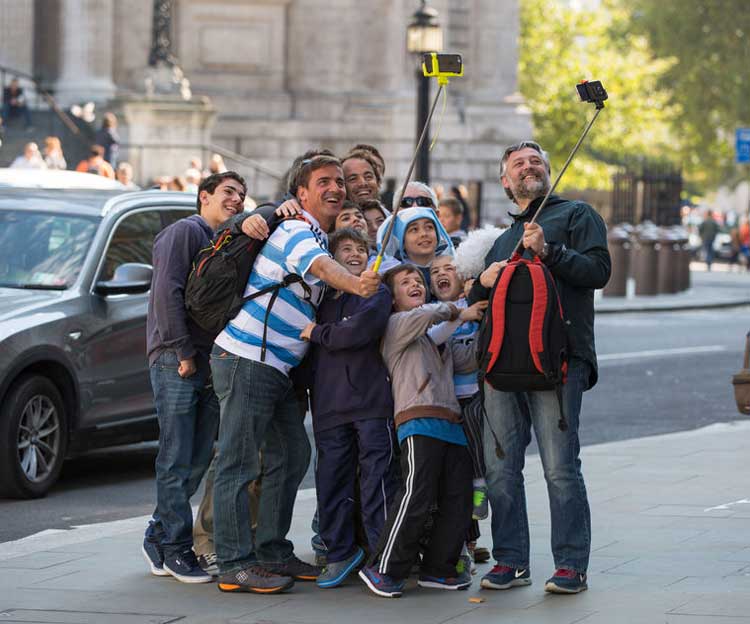 ---
THE KIDS ARE OCCUPIED THROUGHOUT
Not only will parents be able to discover some wonderful parts of London, but the children will be kept occupied and interested searching for particular items, such as bits of street furniture, statues and so on and so forth.
The whole day becomes a true adventure as you make your way around the streets and visit the various Harry Potter film locations around London.
There will be a number of tasks that they have to perform, such as looking for the rats tails in the London church on which the rhyme Oranges and Lemons was based.
They will have to find various animals (or at least statues and models of animals) as they travel all over Central London.
Also, given that the theme of our tour is a magical one, they will be able to stop off at a famous Magic Shop where they can both watch resident magicians perform magic tricks for their delectation and buy simple magic tricks that they can perform for their friends and family when they arrive home.
So not only is this a DIY London Tour but it is also an engaging London treasure hunt that will hold the children's attention throughout the day.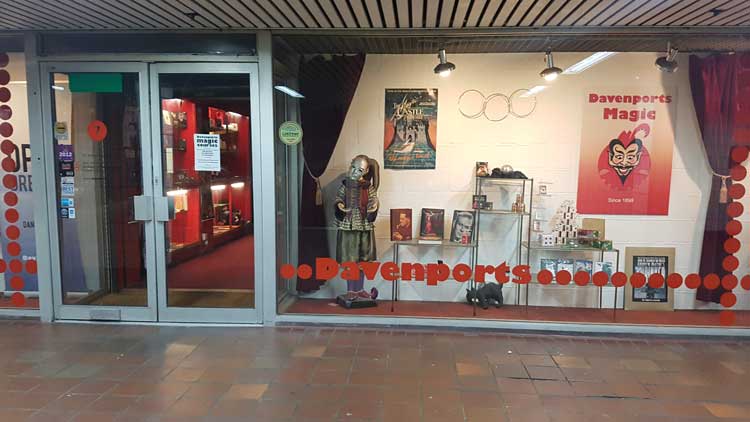 VISIT THE FILM LOCATIONS
Of course, the main idea behind this magical tour is to enable you to visit the Harry Potter Film Locations and all of the ones in Central London are covered.
You will be able to take your children to the entrance to Gringotts Bank; board a train at the underground station that featured in The Order of the Phoenix; stroll along Diagon Alley in the footsteps of Harry and Hagrid; and see the entrance to the Leaky Cauldron (well in fact two entrances, as two different locations were used!).
Last, but by no means least, you will be able to visit the entrance to Platform Nine-and-three-quarters®, where a luggage trolley part embedded in a wall makes for a great family photo opportunity!
IT'S NOT JUST FOR KIDS
Although aimed primarily at families with children, the free magical tour has, over the years, been enjoyed by young and old alike.
Groups of friends have used it to enjoy a fantastic day out in London, whilst Hen Parties have made use of it to add an extra element to their celebrations!
In addition to the film locations, the tour also features many of London's famous, and lesser known, landmarks, so if you are not a fan of the boy wizard, worry not and there is plenty on the tour to occupy any muggles amongst your group!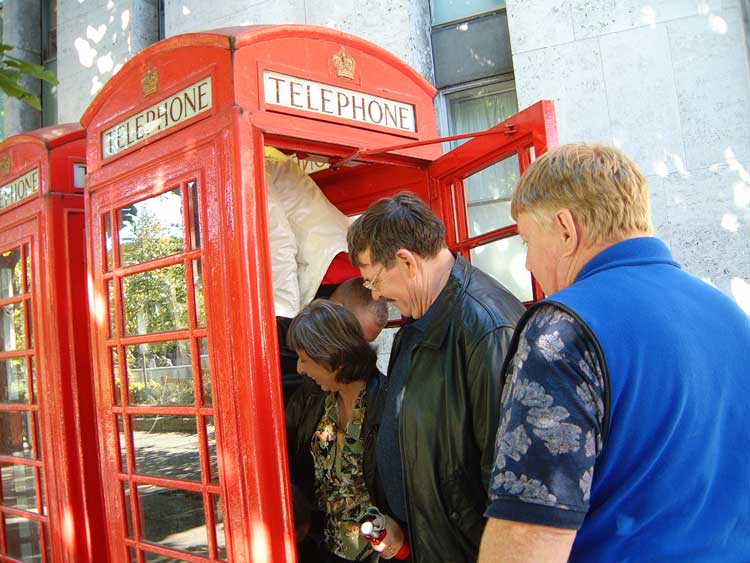 YOU SET THE TIME AND THE PACE
The great thing is that you can do the walk at your own pace and in your own time.
You set the time, the pace and, most important of all, exactly how long you spend at each stop that you visit on the tour.
You are not crammed on to a walk with 50 or 60 other people, you are in the company of your own family and/or friends and are thus able to explore London at your own pace, spending as little or as long as you choose at each site covered.
If you get tired, run out of time or, perish the thought, the kids get grumpy, simply give up for that day and return another day.
The beauty of this DIY Free London Tour is that you set the agenda, you are in charge, so you can decide when to stop for a coffee or a bite to eat, or even when enough is enough.
BEGIN YOUR LONDON TOUR
Speaking of which, enough of the pre-amble! Hopefully you've now got the gist of what this is all about. It is a free tour that will take you all over Central London (an Oyster Card will prove most useful).
So if you are ready to discover a totally different side to this magical city, wave your wand (or better still click on the "begin the Harry Potter London Tour and London Treasure Hunt' below) and prepare to enter the world of wizards and magicians.
BEGIN THE FREE SELF-GUIDED TOURTOUR