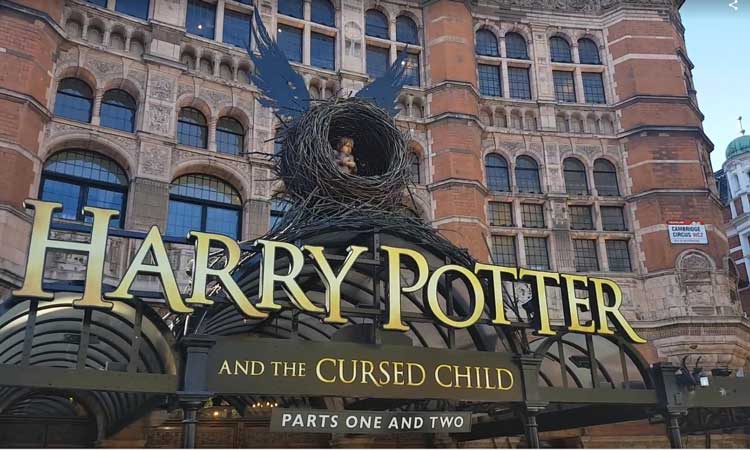 THE DEATH EATERS AND THE CURSED CHILD
This section of the tour has so much to offer the avid harry Potter fan.
You will uncover the narrow passage through which the Death Eaters enter Diagon Alley in Harry Potter And The half Blood Prince; have the opportunity to buy some sweets at a real-life Honeydukes; and you will then stand outside the theatre at which Harry Potter And The Cursed Child is currently wowing audiences.
DIRECTIONS
Continue to the end of Cecil Court and turn right along:-
CHARING CROSS ROAD - THE LEAKY CAULDRON
The Leaky Cauldron is a small shabby-looking inn on Charing Cross Road that is sandwiched between a record store and a large book shop.
There are several pubs along Charing Cross Road, none of which exactly fit the description, so why not play a little game and decide for yourselves which one you think could be the Leaky Cauldron?
DIRECTIONS
Keep ahead along Charing Cross Road, passing an exit from Leicester Square Underground Station, go over Cranbourn Street, and keep ahead passing the next exit from Leicester Square Underground Station.
WATCH OUT, HERE COME THE DEATH EATERS (AGAIN)
In the opening scene of Harry Potter And The Half Blood Prince, the Death Eaters, having wreaked havoc on Trafalgar Square, race along Charing Cross Road, passing this entrance to Leicester Square Underground Station, leaving a trail of death and destruction in their menacing wake.
So, be sure to keep a keen eye peeled for their approach as you make you way along this section of your walk!
DIRECTIONS
Having walked past the Porcupine pub, cross over Great Newport Street, and turn right along its opposite side.
A little way along, just past the black phone box, pause by the black gate on the left, which is situated next to number 12 Great Newport Street.
THE DEATH EATERS ENTER DIAGON ALLEY
As the Death Eaters continue their flight of destruction in The Half Blood Prince, they head along the passage which you can see on the other side of these gates, and, via it, they enter Diagon Alley, where they continue their murderous rampage, leaving dead and dying witches and wizards sprawled across the road, and shops either on fire, or else gutted and destroyed.
---
WATCH THE DRAMATIC OPENING SCENE
---
DIRECTIONS
Backtrack to the corner of Great Newport Street and go right along Charing Cross Road.
A little way along, on the right, you will find:-
HARDYS SWEET SHOP
---
52, Charing Cross Road, London, WC2H 0BB.
Opening Hours:-Daily 10am - 8pm.
---
Okay, so it's not Honeydukes, but Hardys sweet shop makes for a delicious substitute, and a worthwhile place at which to take a well-earned break.
Stepping inside Hardy's you are surrounded by shelves stacked with jars filled with all manner of confectionary, and every sugary treat that a young witch, wizard or muggles could wish for.
They sell a number of Harry Potter themed sweets, and, for £10, you can purchase a specially made up bag of sweets, containing chocolate frogs and wizards, every flavour of beans (including bogie and vomit flavours!), liquorice wands, jelly basilisks and Sherbet Lemons.
And, don't worry, you'll be passing several dental practices later!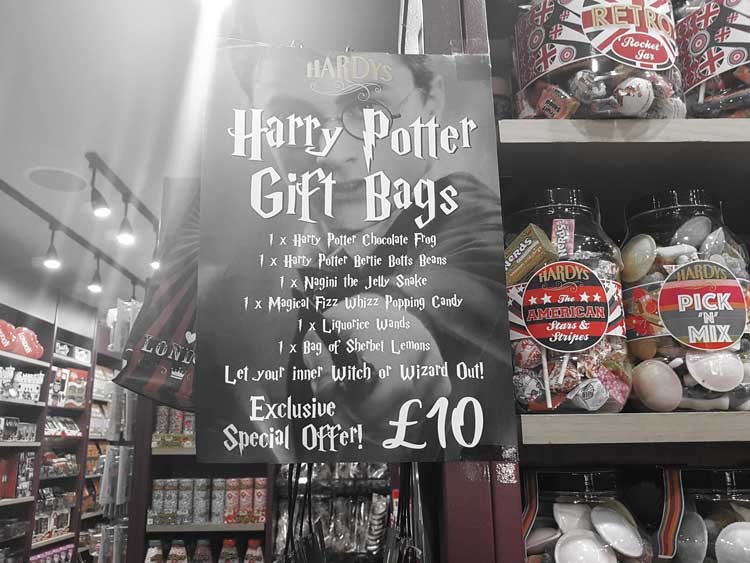 DIRECTIONS
Stagger out of Hardys and head right along Charing Cross Road.
This section is lined with an eclectic mix of book shops and other quirky establishments, many of which would be right at home in Diagon Alley.
Keep walking until you arrive at the traffic lights at Cambridge Circus, at which point, cross over to the Palace Theatre where the current production just happens to be:-
HARRY POTTER AND THE CURSED CHILD
Harry Potter and the cursed Child is one play presented in two parts which you can either see in order on the same day (matinee and evening), or which you can attend on two consecutive evenings.
Here is how the official website describes the treat that awaits Potter fans attending this lavish production:-
"Based on an original new story by J.K. Rowling, Jack Thorne and John Tiffany, Harry Potter and the Cursed Child is a new play by Jack Thorne. It is the eighth story in the Harry Potter series and the first official Harry Potter story to be presented on stage.
It was always difficult being Harry Potter and it isn't much easier now that he is an overworked employee of the Ministry of Magic, a husband and father of three school-age children.
While Harry grapples with a past that refuses to stay where it belongs, his youngest son Albus must struggle with the weight of a family legacy he never wanted.
As past and present fuse ominously, both father and son learn the uncomfortable truth: sometimes, darkness comes from unexpected places."
Further details and bookings on the official website.
---
WATCH THE OPENING GALA
---
THE PALACE THEATRE
The Palace theatre began life in 1891 as The Royal English Opera House and was built for Richard D'Oyly Carte who had made his fortune staging the Gilbert and Sullivan Light Operas.
He wanted a venue at which he could stage serious opera and envisaged that his new Theatre would become the leading Opera venue in Europe.
The building was designed by T. E. Collicutt, and the foundation stone was laid by D'Oyly Carte's wife, Helen, in 1888.
The completed design was considered quite novel. The upper levels were not supported by pillars but rather by heavy steel cantilevers built into the back walls. The tiers, corridors, staircases and landings were all constructed of concrete to reduce the risk and damage that might be done by fire.
The Opera House opened on Saturday 31st January 1891, and, two days later, The Times hailed it as "the most beautiful theatre in London."
The first opera to be staged there was Arthur Sullivan's Ivanhoe.
Unfortunately, the venue never worked as an opera house and it closed in January 1892.
THE PALACE OF VARIETIES
It was re-incarnated as the "Palace of Varieties" - a music hall that presented many of the top acts of the day, and which, on July 1st 1912, hosted the first ever Royal Variety performance, which was attended by King George V and Queen Mary. It was billed as the Royal Command performance and the King agreed that he would attend a once-yearly variety show on condition that the profits went to the Variety Artists Benevolent Fund.
A THEATRE AGAIN
In 1924, it became a theatre, and since then it has staged many great musicals.
These include Anything Goes; Cabaret; The Sound of Music, which opened on May 18th 1961 and ran for 2385 performances; Jesus Christ Superstar, which ran for 3,358 performances from 1972 to 1980; and Les Misérables, which ran at the theatre for nineteen years, from December 1985, and which is still going strong at the nearby Queen's Theatre where, on 8th October 2006, it became the longest running musical in the world.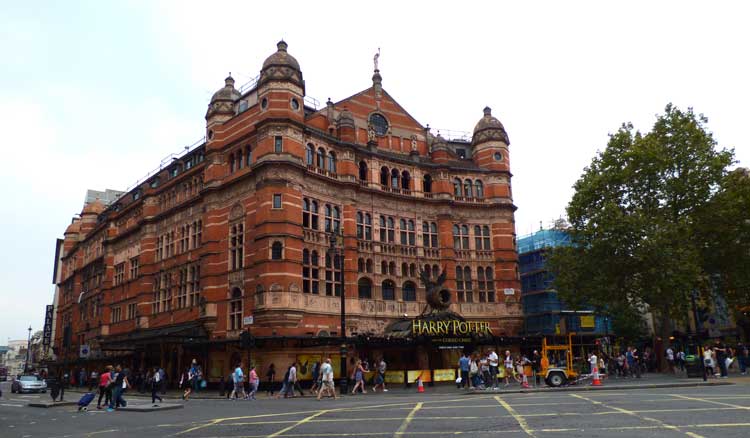 PRETTY GOOD COMPANY
So, all in all Harry Potter and the Cursed Child is in pretty good company, historically speaking!
---
---