YOUR JOURNEY CONTINUES
TOURS OF LONDON DIRECTIONS
Turn right out of Davenports, go up the steps of Exit Nine and turn right along Strand. Pause on the corner of Adelaide Street.
LONDON TREASURE HUNT CLUE TEN
Who would you find in the gutter here?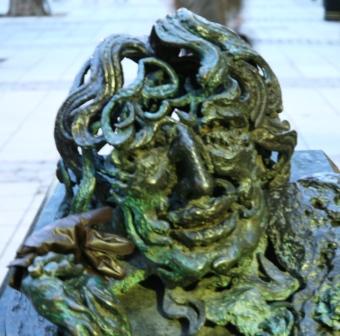 ANSWER
A little way along Adelaide Street is a sculpture of Oscar Wilde. On it is the quote from Wilde himself "We are all in the gutter but some of us are looking at the stars."
So the actual answer is "we all are."
You might like to walk them to the statue and have them inspect it for the solution.
TOURS OF LONDON DIRECTIONS.
Backtrack and cross over Duncannon Street via the crossing to pass the right of the four red phone boxes. Keep ahead over Strand via the next crossing. Bear right on the other side and go left just before Boots to pass between the four phone boxes.. Go down the ramp and keep ahead into Craven Street.
CHARLES DICKENS - A CHRISTMAS CAROL.
It was the doorknocker on a house in Craven Street that gave Charles Dickens the idea for one of the memorable scenes early on in A Christmas Carol: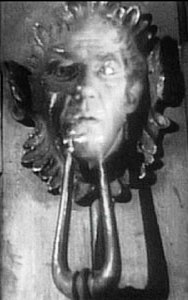 Let it be also borne in mind that Scrooge had not bestowed one thought upon Marley, since the last mention of his seven-years' dead partner that afternoon. And then let any man explain to me if he can, how it happened that Scrooge, having his key on the lock of the door, saw in the knocker, without its undergoing any intermediate process of change - not a knocker, but Marley's face.
Marley's face. It was not in impenetrable shadow as the other objects in the yard were, but had a dismal light about it, like a bad lobster in a dark cellar. It was not angry or ferocious, but looked at Scrooge as Marley used to look: with ghostly spectacles turned up on its ghostly forehead. The hair was curiously stirred, as if by breath or hot air; and, though the eyes were wide open, they were perfectly motionless. That, and its livid colour, made it horrible; but its horror seemed to be in spite of the face and beyond its control, rather than a part of its own expression.
As Scrooge looked fixedly at this phenomenon, it was a knocker again.
Tradition holds that Dickens got the idea for the doorknocker's transforming into Marley's face from a particularly grotesque old doorknocker he spotted one night while walking along Craven Street. Apparently, the owner of the house on whose door it hung became somewhat alarmed when an enthusiastic photographer approached her and asked for permission to photograph it. She immediately had it taken down and placed in a bank vault since when its whereabouts are unknown.
However, Craven Street can at times have a decidedly sinister feel to it, lined as it is with sturdy 18th century buildings, some of which still possess doorknockers. So set the children the task of which house here looks themost haunted, see if they can agree on which doorknocker would inspire Charles Dickens today.
TOUR DIRECTIONS
Half way along Craven Street go right into Craven Passage, where on the right is the Sherlock Holmes Pub.
THE SHERLOCK HOLMES PUB.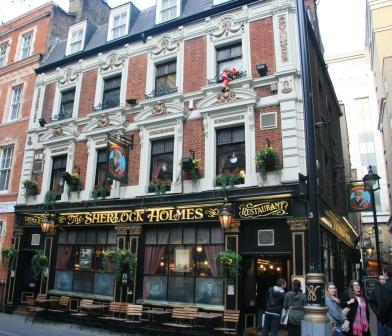 You might like to stop off and enjoy a lunch or a coffee here. Its walls are adorned with numerous bits of Sherlock Holmes memorabilia, old Sherlock Holmes movies play on a TV in the main bar, whilst upstairs there is an exact replica of Sherlock Holmes's sitting room at 221B Baker Street.
The pub makes a nice place to take a break before moving on to the next section of your Harry Potter Tour and London Treasure Hunt, which will take you through Westminster.
THE NEXT SECTION OF YOUR HARRY POTTER WALKING TOUR
TAKES IN THE MINISTRY OF MAGIC.